Brain Health
3 Brain Boosting Soup Recipes For Winter
When the weather turns from feeling chilly to downright cold, we start making soup. Nothing feels more warming on a cold day than a hot bowl of delicious soup. We love making a large batch and enjoying it all week or freezing the leftovers for days when we come home too busy or tired to cook. When paired with a healthy salad made from winter greens and fruit, soup makes the perfect nourishing, healthy meal.
For these three delicious wintery soups, we turned to Dr. Annie Fenn, an Ob/Gyn who now focuses on preventing Alzheimer's and other forms of dementia through food. She is the founder of the website Brain Health Kitchen, which provides recipes, tips, and evidence-based techniques for preventing neurodegenerative decline. Annie shared with us a few of her favorite winter soup recipes. As a bonus, she gave us her genius kale and persimmon salad, which pairs perfectly with each recipe.
Turmeric Ginger Pho Bo
Fresh turmeric and ginger add anti-inflammatory properties to the homemade broth, an essential for this Vietnamese-inspired pho bo. Fresh turmeric can be found in many grocery stores; look for it next to the ginger in the produce aisle. Alternatively, use a fresh jar of ground turmeric powder from the spice section. Although rice noodles are traditionally served in this soup, I prefer soba. Made from buckwheat, a gluten-free grain, soba noodles have a nutty flavor and a lower glycemic index.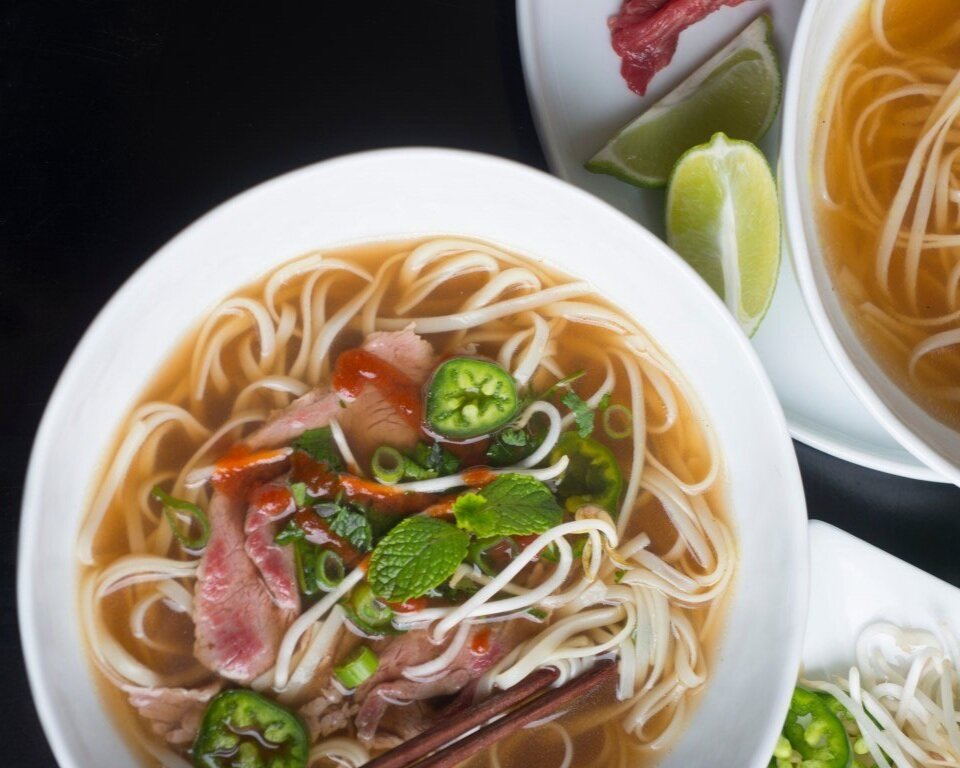 Turmeric Ginger Pho Bo
Source: Annie Fenn, MD, Brain Health Kitchen
Serves 4-6
INGREDIENTS
12 ounces beef tenderloin (I also like using wild game, when I have it), sliced as thinly as possible
8 cups Turmeric-Ginger Bone Broth (recipe follows)
8 ounces buckwheat soba noodles
Fresh cilantro, basil, and mint, for serving
Thinly sliced Thai red chilies, for serving
Chopped scallions, for serving
Lime wedges, for serving
INSTRUCTIONS
Heat the broth in a medium pot until gently simmering.
Bring a large pot of water to a boil. Cook the soba noodles according to the package. Then drain and rinse with water, so the noodles do not stick together.
When you are ready to serve, divide the noodles between your serving bowls.
Add the beef to the simmering broth. It should cook through in less than a minute.
Ladle the hot broth and beef over the noodles.
Top with herbs, chilies, scallions, and lime.
Tumeric-Ginger Bone Broth
Serving 6 quarts
30 minutes prep and 5 hours cooking
INGREDIENTS
5 lbs marrow bones from grass-fed beef or bison
1 large yellow onion, unpeeled and cut into quarters
2 2-inch pieces ginger root scrubbed
4 2-inch fingers turmeric root scrubbed, or add 1 teaspoon of turmeric powder to the stockpot
5 cloves garlic unpeeled
6 quarts of water
1 1/2 teaspoons kosher salt
1/2 teaspoon freshly ground black pepper
1 2-inch piece cinnamon stick
2 whole star anise pods
1/4 cup fish sauce; Shellfish allergy? Use Red Boat brand fish sauce made with anchovies not shellfish.
1 tablespoon coconut sugar
INSTRUCTIONS
Preheat oven to 400ºF.
Place the bones, onion, ginger, turmeric, and garlic on a rimmed baking sheet. Bake for 1 hour, or until the bones and vegetables are deeply browned and caramelized.
Place the contents of the baking sheet into a large stockpot, including the crispy browned bits that stick to the pan, and cover with 6 quarts of water.
Bring to just below a simmer, but do not let the contents boil. Adjust the heat until the bubbles are very slowly coming to the surface, with the lid ajar if needed, and continue to simmer for 3 hours. Use a fine-mesh strainer or slotted spoon to skim and discard any foam that forms on the surface of the broth.
As the broth reduces, add small amounts of water so that the contents of the pot are fully submerged. After 3 hours, add the cinnamon, star anise, salt, and pepper. Continue simmering for another 1 to 2 hours.
Add the fish sauce and coconut sugar, and stir until the sugar is dissolved. Remove from the heat and let cool slightly.
Set a large fine-mesh sieve over a large pot. Pour the broth through, then discard the solids. Cool the stock to room temperature and refrigerate overnight. Once cold, fat will solidify on the top of the broth. Skim it off and discard.
To Store: Transfer broth into food-grade plastic or glass containers with airtight lids. Keep in the refrigerator for up to 5 days or in the freezer for up to 6 months.
Tuscan Cannellini Bean Soup
Made with ingredients you probably already have in your pantry, this nourishing soup gets its depth of flavor from the omega-3-rich anchovies, which are also a great source of brain-boosting vitamin B12, an essential nutrient for basic cognitive function. Virtually every ingredient is a brain health booster. Rosemary (technically a leafy green) has been studied for its ability to improve memory, alleviate depression and enhance the speed and accuracy of cognitive tasks. Beans stabilize blood sugar and prevent the spiking of insulin. They are high in protein and low in fat and are included in all the Blue Zones diets of healthy centenarians around the world. 
You'll top each bowl with quickly sautéed fresh mushrooms to add rich umami flavor. Eating two servings of mushrooms each week has been shown in some studies to reduce the risk of dementia.
Tuscan Cannellini Bean Soup
Source: Annie Fenn, MD, Brain Health Kitchen
Serves 4
10 minutes prep and 30 minutes cooking
INGREDIENTS
1/4 cup plus 1 tablespoon extra virgin olive oil
2 cloves garlic, smashed
2-3 oil-packed anchovy fillets
6 cups vegetable or chicken broth, or water
2 12-oz cans cannellini beans, drained and rinsed
1 teaspoon finely chopped fresh rosemary, plus 3 sprigs and more for garnish
½ teaspoon kosher salt, plus to taste
Freshly ground black pepper, to taste
2 cups fresh cremini or white button mushrooms coarsely chopped
INSTRUCTIONS
Heat ¼ cup of the oil and garlic in a large pot over medium heat. Cook until the garlic is fragrant, about 2 minutes.
Add the anchovies and cook, stirring occasionally, for about 2 minutes or until they start to fall apart.
Add the broth or water, beans, rosemary sprigs, and ½ teaspoon salt. Bring to a boil over high heat, then reduce to a simmer and cook, stirring occasionally, for 30 minutes until the beans are very soft.
Meanwhile, cook the mushrooms: Heat the remaining tablespoon of olive oil with 1 teaspoon of chopped fresh rosemary until soft and brown around the edges, about 10 minutes. Season to taste with salt and pepper. Cover and keep warm.
Remove rosemary sprigs from the pot and transfer the soup to a blender, in batches if necessary. Puree until smooth.
Season to taste with salt and pepper.
Serve hot, topped with a spoonful of mushrooms, a drizzle of olive oil, and a sprinkle of chopped rosemary.
Green Tea Miso Soup with Mustard Greens
This easy miso soup packs in whole food soy ingredients enjoyed by the dementia-free centenarians of Okinawa, Japan. Soy is the most genetically modified crop in the world. When purchasing soy whole foods, look for organic products that are, by definition, GMO-free. Organic GMO-free products will reduce your exposure to pesticides, a known cause of oxidative stress in the brain. Look for low sodium, organic miso paste at the grocery store next to the tofu. You'll find miso pastes labeled yellow, sweet white, chickpea, and red. The more mildly flavored sweet white miso works best with this soup. This deeply flavorful pantry staple adds gut-friendly prebiotic fiber to your salad dressings, marinades, and soups.
When purchasing green tea bags, look for unflavored, organic tea. Green tea is an excellent source of polyphenols, which are key antioxidants for brain health. Because polyphenols can become inactivated with high heat, be sure to brew the tea with water that is hot but not boiling and simmer the soup gently.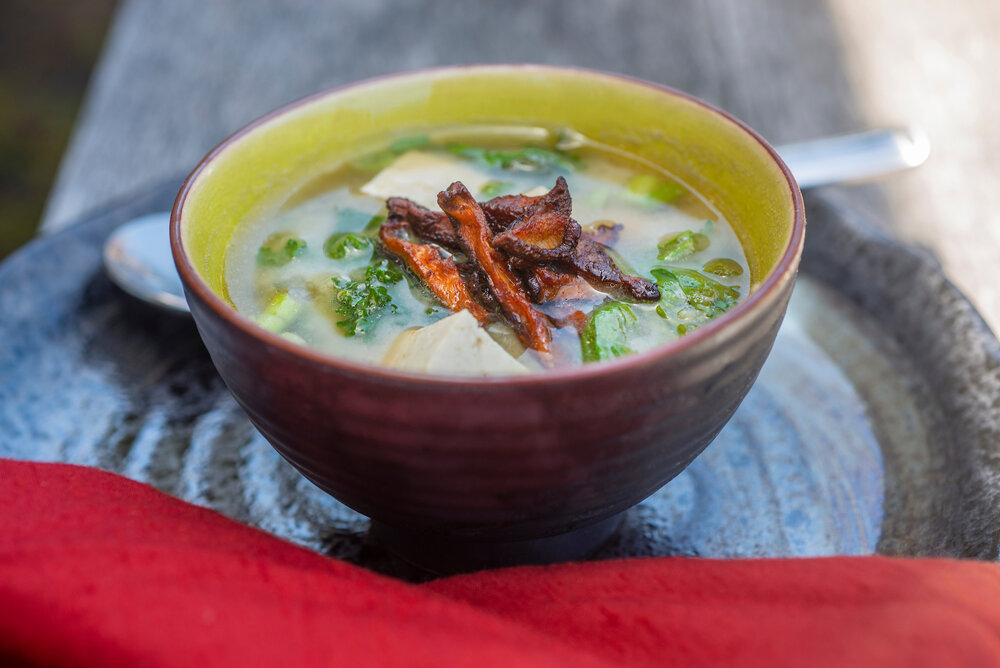 Green Tea Miso Soup with Mustard Greens
Source: Annie Fenn, MD, Brain Health Kitchen
Makes 2 small bowls
10 minutes prep and 20 minutes cooking
INGREDIENTS
1 ½ cups just-boiled water
2 green tea bags, unflavored
1 teaspoon sesame oil
1 teaspoon grated or very finely chopped fresh ginger
1 ½ cups vegetable or chicken broth
½ cup organic firm tofu cut into 1-inch cubes
⅓ cup organic low sodium white miso paste
2 cups mustard greens or kale, spinach, or collard greens
1 teaspoon low sodium soy sauce or tamari
⅓ cup thinly sliced scallions, light green and white parts
Portobello bacon, to serve, optional
INSTRUCTIONS
Steep the green tea bags in the just-boiled water for 4 minutes. Discard the tea bags.
Heat the oil and ginger in a medium pot over medium heat until aromatic, about 1 minute.
Add the broth and green tea to the pot. Bring to just below a boil, then reduce the heat to a gentle simmer.
Place the miso paste in a small bowl and add a ladleful of the hot broth. Stir with a fork until combined and add back into the soup along with the tofu.
Add the greens, soy sauce, and scallions. Simmer gently until the greens are tender and the tofu is heated through, about 3-4 minutes.
Ladle soup into bowls and top with Portobello Bacon, if using.
Kale Salad with Persimmons and Spiced Walnuts
Soup and salad go hand in hand. There's a lot for your brain to love in this fresh take on kale salad. Kale is a nutrient-dense green with many bioactive substances. Walnuts are so high in vitamin E and omega-3s that many consider them the brain's healthiest nut. The walnuts also get tons of bright flavors and anti-inflammatory properties from the warm spice coating.
Fisetin is a phytonutrient found in persimmons, which has the potential for treating neurodegenerative diseases like Alzheimer's. A type of flavanol, fisetin, has been shown in animal studies to slow down the aging of the brain. In fact, when elderly mice were given fisetin, they had fewer cognitive deficits compared to mice who didn't get fisetin in their food. Researchers hypothesize that fisetin helps repair synapses and calms inflammation in the brain. But what about human brains? Although there is a long list of studies looking at fisetin's anti-cancer and neuroprotective properties in animals, human trials are lacking.
Persimmons also provide us with vitamin C, beta-carotene, and the well-known brain-boosting flavonols quercetin and kaempferol. Soluble, fiber-rich foods like persimmons slow carbohydrate digestion and sugar absorption, which helps prevent blood sugar spikes.
Kale Salad with Persimmons and Spiced Walnuts
Source: Annie Fenn, MD, Brain Health Kitchen
Serves 4
Cooking time 45 minutes
INGREDIENTS
2 tablespoons extra virgin olive oil plus 1 teaspoon for the nuts
1 tablespoon freshly squeezed orange or lemon juice
1 small garlic clove minced
¾ teaspoon kosher salt plus more to taste
1 bunch lacinato kale leaves torn or chopped into bite-sized pieces, discard the tough stems or reserve for another use; lacinato kale is also known as Tuscan or dinosaur kale
½ small head radicchio sliced ¼-inch thick
1 cup raw walnut halves or pieces
1 teaspoon coconut palm sugar
¼ teaspoon ground cumin
¼ teaspoon ground cinnamon
¼ teaspoon cayenne pepper or chili powder
2 ripe persimmons cored and sliced into ⅛-inch thick rounds, preferably Fuyu
Freshly ground black pepper to taste
INSTRUCTIONS
Preheat your oven to 350ºF.
In a medium salad bowl, whisk 2 tablespoons of the oil, the orange or lemon juice, garlic, and ½ teaspoon salt.
Add the kale and radicchio and toss well to coat. Use your hands to ensure all the greens are coated evenly with the dressing. Set aside at room temperature while you make the rest of the salad, at least 20 minutes.
Place the walnuts on a small baking sheet. Toast for 5 to 7 minutes, until fragrant and golden brown. Meanwhile, stir together the sugar, cumin, cinnamon, cayenne, and ¼ teaspoon salt in a small bowl; set aside.
Heat the remaining teaspoon of oil in a large skillet over low heat. Add the toasted walnuts and toss to coat. Remove from the heat and stir in the spices until the walnuts are coated evenly.
Add the radicchio to the kale and toss to combine. Top the greens with the persimmons, the spiced walnuts, and any oil from the skillet. Toss until the persimmons are also coated with the dressing. Finish the salad with a pinch more salt and freshly ground black pepper, if you like. Serve immediately.
Top the greens with the persimmons, the spiced walnuts, and any oil from the skillet. Toss until the persimmons are also coated with the dressing.
Finish the salad with a pinch more salt and freshly ground black pepper, if you like. Serve immediately.
For more brain health tips and recipes, head on over to Lisa Health and join our community!
Dr. Annie Fenn is a retired Ob/Gyn who specialized in menopausal care for the last six years of practice. She was the only Certified Menopause Practitioner in the state of Wyoming. Dr. Fenn's second act is traveling all over the world, teaching women how to prevent Alzheimer's through food. Her company, Brain Health Kitchen, is a cooking school that teaches people how to cook and eat with brain-healthy foods. She loves getting into the kitchen with her students to show them how to cook delicious, nutritious meals that reduce their risk of Alzheimer's and dementia.
Sign up for more unique women's health content
By submitting this form, you agree to the Lisa Health Privacy Policy and Terms of Use