Skin
A Menopause Revolution in My Bathroom
This post contains affiliate links
As the co-founder and CEO of Lisa Health, my mission has always been to empower women to thrive on their journey through menopause and midlife. Part of the thriving equation is feeling good about ourselves from the inside out and outside in. Sometimes, that means making a change and swapping old routines for new ones.
Over the last year, there's been a revolution in my bathroom, and I couldn't be more thrilled. Steadily, my beauty products are being replaced by products from newly launched menopause brands. For us entrepreneurs who are working hard to create a better, personalized experience for women in midlife, it's exciting to see the increase in products created just for us.
Many physical changes during the menopause life stage affect our appearance, like thinning and dry, frizzy hair, dry, flaky skin, fine lines, and sagging skin, to name a few. Unfortunately, consumer brands have ignored midlife women for far too long as they focus on younger women. Let's face it, though, products designed for younger women just don't cut it, and we've been making do for years. Finally, the unique needs of menopausal women and our economic clout are beginning to be recognized.
I am so excited by my new finds that I've decided to share my favorites. These are products that are moving the needle on my skin and hair concerns and have earned their place in my daily routine. It also makes me feel good to support companies founded and led by women who have made it their mission to create better products for women in midlife.
Better Not Younger
In the hair care category, I've been so impressed with Better Not Younger (BNY), the first brand to address the unique hair care needs of women 40+. BNY offers a wide range of products to address hair loss, thinning hair, dry, brittle, frizzy hair, and gray hair. My hair is still thick but has become dry with noticeable breakage and frizz. My favorite BNY products are the deep conditioning Butter Masque and Second Chance Repairing Shampoo and Conditioner. My hair is noticeably smoother and healthier. After talking with BNY's founder and hair care expert, Sonsoles Gonzalez, and learning about the importance of taking care of my scalp in midlife, I am excited to try their new Super Power Fortifying Hair and Scalp Treatment. Want another opinion? Check out our product review to find out what our testers thought of BNY.
Womaness
Womaness is one of the latest brands to support a range of midlife needs, from skincare to vaginal dryness to bladder leakage. Co-founders Sally Mueller and Michelle Jacobs are 50-something women on a mission to flip the perception of menopause from a negative to a positive event. "Menopositivity" is their mantra. Womaness has many terrific products to choose from. After trying several, The Works body cream and Daily V Soothe are my favorites. Daily V Soothe is a gel form vaginal moisturizer that doubles as a lubricant. It dries quickly and is not sticky or tacky. It's reduced my vaginal dryness and made sex a lot more comfortable. The Works body cream is nice and light with long-lasting hydration.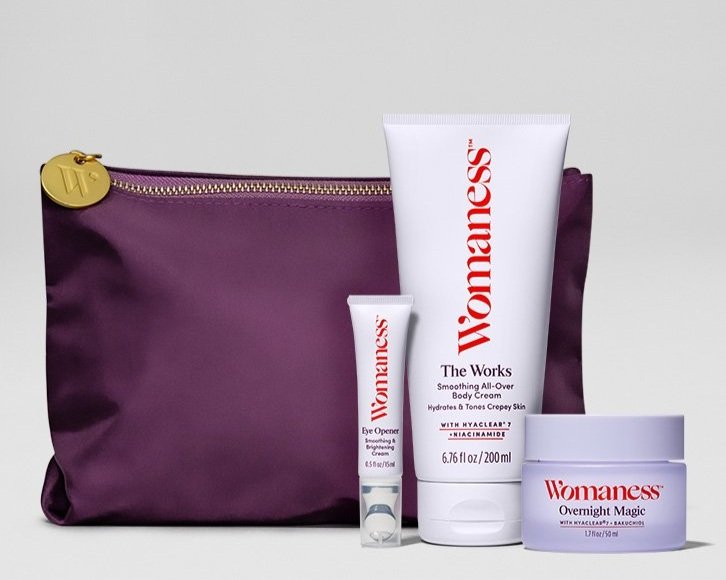 Pause Well-Aging
After beauty industry executive Rochelle Weitzner had her first hot flash, she recognized just how overlooked midlife women are in the skincare world. It inspired her to start her own company targeting the challenges of menopausal skin. Pause Well-Aging products tackle dry, flaky skin, fine lines, loss of volume, and more. With menopause, my skin has changed from super oily to normal/dry, but I still am prone to large, clogged pores on my nose, chin, and forehead. It made me a bit nervous to use rich moisturizer and cleansing products. However, after two days, I was amazed at how soft the Hydrating Cleanser and Collagen Boosting Moisturizer made my skin. And no clogged pores! It felt like a little miracle happened with my skin. Another bonus is that I don't need to exfoliate as much. They cleverly incorporated ingredients that help with cellular turnover. According to Rochelle, midlife women over-exfoliate and exacerbate skin issues. She taught me that being gentle with my skin at this life stage is critical. These two products have become mainstays in my daily beauty routine. Find out what our product testers thought of Pause Well-Aging.
Caire Beauty
Longtime beauty industry veterans Celeste Le and Lorrie King kept hearing from their friends about the challenges of aging skin, so they decided to start their skincare line, Caire Beauty. The company's Caire Theorem Serum Boost is the latest addition to my routine. After using the Hyaluronic Acid-rich serum, my large pores noticeably shrunk within two days, and my skin is tighter and softer overall. For the pore-minimizing benefit alone, Caire's serum has earned its place in my daily routine. Love it! You can find our product review here.
State Of
State Of's skincare products were designed using the collective input of over 100 menopausal women. Like I said above, I've always steered clear of any products containing oil. So naturally, I was skeptical about the Rejuvenating Face Oil. I tried oil-based cleansers and moisturizers on past advice from estheticians, and they wreaked havoc on my skin. Talk about clogged pores! Not so with State Of's face oil. This is a go-to product when my skin is dehydrated and flaky during the cold winter months. No clogged pores. Just beautiful hydration and a lovely woodsy smell. My other favorite product is the CBD Body Oil. Any worries I had about the body oil getting on clothing or sheets were quickly dispelled. The CBD Body Oil melts into my skin and has lasting hydration even after showering. In the summer, it enhances your tan. Bonus! Read our product review to learn more about State Of products.
I hope you'll join me in starting your beauty revolution. Let's start shouting about the products we want and need from the rooftops and vote with our wallets. The fastest way to draw attention to our unique needs is to start switching allegiance from beauty brands that no longer serve us and start supporting brands and products created by midlife women for midlife women.
What are your favorite beauty products for menopause and aging concerns? We'd love to hear about them. Drop me a line.
Download Midday from the App Store and find these and other top products for menopause and healthy aging, along with expert guidance, or visit us at Midday.Health.
Ann Garnier, is the co-founder and CEO of Lisa Health, a digital health company developing advanced technology solutions for menopause and healthy aging. The company's Midday app is the first to use AI and sensor technology to illuminate the menopause life stage and support women with an end-to-end platform for personalized evidence-based and science-backed insights and therapeutics. Ann is passionate about women's health and advancing research beyond pregnancy and fertility to reduce the serious and costly health risks that women face as they age and help them celebrate the start of something great.
We curate products to keep you abreast of new technologies, emerging science, and things we think are interesting or cool. Lisa Health is a participant in the Amazon Affiliate Program, a program designed to provide a means for sites to earn fees by linking to Amazon.com. If you purchase a product from Amazon or another affiliate program we participate in, we earn a small commission from qualifying purchases that help us provide information and services to our users. We have not always tested these products and can't validate their claims. We update links when possible, but note that deals can expire and all prices are subject to change. The decision is yours, and whether or not you decide to buy something is completely up to you.
Sign up for more unique women's health content
By submitting this form, you agree to the Lisa Health Privacy Policy and Terms of Use