Skin
Product Review: Pause Well-Aging
This post contains affiliate links
Aging skin is one of the frustrating changes that accompany menopause. During the menopause transition, hormones become erratic, wreaking havoc with our skin. Estrogen aids with elastin and collagen production and is key to keeping your skin tight, bright, hydrated, and thick. When estrogen declines during perimenopause and postmenopause, we experience a shift from oily or normal complexions to skin that's as dry as a bone. Aging skin suffers from a loss of natural lipids, like ceramides, fatty acids, and cholesterol, contributing to inflammation, dehydration, and a compromised moisture barrier. Dry, flaky skin, rosacea, sagging skin, fine lines, and wrinkles are the most common issues, but many women report breakouts too.
Historically, skincare companies largely ignored midlife women, focusing their research, product lines, and marketing on younger women. Now, big brands and new companies are beginning to recognize the unique needs and challenges of menopausal skin.
Pause Well-Aging is the first skincare line designed specifically to meet the needs of women 45+. The company launched its line in 2019. The inspiration came to the company's founder, Rochelle Weitzner, when she started experiencing menopause symptoms, including hot flashes and aging skin. Rochelle is a veteran of the beauty industry with impressive credentials. She was CEO of Erno Lazlo and CFO of Laura Mercier, both highly successful global beauty brands. When she went looking for skincare products to address the changing needs of her skin, she couldn't find any brands that were focused on the unique needs of midlife women and the changes brought about by menopause. Rochelle instantly knew she wanted to start a company to fill the gap. Her vision was not only to create a high-quality line of skincare products for women 45+ but also to change the narrative of how women and society perceive menopause and aging. The company's name speaks directly to that vision, incorporating the company's key focus – "well-aging" – into the name. According to Rochelle, "Pause is more than just skincare. It's a movement affirming that beauty gets better with age."
How Pause Well-Aging is Different
One of the key differences of the Pause skincare line is what the company calls the "Pause Complex." These are active ingredients to directly address key skin changes that come with estrogen deficiency: Loss of collagen, decreased skin elasticity, sagging skin, thinner skin, and diminished skin tone and luminosity. According to the company, this proprietary complex, along with other ingredients, results in highly targeted, specific, and efficacious skincare products for women 45+.
Another unique innovation is Pause's Fascia Stimulating Tool. This tool is an FDA-cleared class 1 medical device designed to improve elasticity, minimize sagging, and enhance skin health. You're probably wondering what fascia is and why you need a tool to stimulate it. We were curious too. Fascia is the connective tissue that surrounds and supports all muscles and organs. It is made up of fibrous connective tissue and fibroblasts. Fibroblasts are the cells that produce collagen and elastin fibers. When we reach our 20s, our fibroblast's production of collagen and elastin fibers begins to decline and continue to decrease as we age. We don't lose fibroblasts, but they slow production, essentially falling asleep. Pause's Fascia Stimulating Tool is designed to help wake up fibroblasts reinvigorating collagen and elastin production and improve blood flow for healthier tissue quality. If you're curious to learn more about how this high-tech tool works, read our interview with Pause's founder.
The company has also established its Pause Clean Standard. Pause products are free from BHT, BHA, EDTA, formaldehyde, GMOs, mineral oils, parabens, petrolatum, phthalates, propylene glycol, Sulfates, and triclosan. They don't use any animal by-products, do not test on animals, and are Leaping Bunny Certified. The products are vegan, hormone-free, gluten-free, and non-GMO.
Putting Pause Well-Aging To the Test
We decided to try the Pause products to see if they lived up to the claims. Our tester is a 55-year old postmenopausal woman who has been trying to figure out a new skincare routine after her oily skin turned to moderately dry skin, including a few dry patches, fine lines, thinning, a bit of sagging, and a couple of age spots thrown in. She tried the Hydrating Cleanser, 4-in-1 Micellar Cleansing Treatment, Collagen Boosting Moisturizer, Detox Serum, Complete Face Serum, Eye Renewal Treatment, Hot Flash Cooling Mist, and Fascia Stimulating Tool.
Overall, our tester was quite pleased with her product experience. Within a week, her skin felt really soft and smooth and didn't feel like it needed any exfoliation. Previously, she was exfoliating every couple of days to smooth her rough texture and scrub off flakes of dry skin. "I was surprised at how much I liked the Pause products. I've been trying different products for dry skin, and have found them to be too rich, clogging my pores and making my skin feel greasy. The Pause products didn't do any of those things. The Hydrating Cleanser is gentle, light, and rinses off completely. No oily, greasy residue. My skin feels clean and soft after I use it. The Collagen Boosting Moisturizer is also nicely hydrating and just melts right in. It works beautifully with my makeup. Together with the Complete Face Serum, my skin was truly transformed in less than a week without having to exfoliate to get a nice smooth texture. I've been exfoliating forever, so it was surprising to find out that if you are using the right products, you don't need one! I also liked the Detox Serum. My pores were visibly smaller after using it for a few days, and it didn't dry out my skin. I was surprised to find that I preferred the Hydrating Cleanser, but the 4-in-1 Micellar Cleansing Treatment is perfect for traveling when you don't want to carry a lot of products with you. It's a cleanser, toner, serum, and moisturizer all in one product. This product will definitely have a place in my travel kit when I get back on the road. Really handy when you don't have room for all your products, or you're in a situation where washing your face is not super-convenient like camping, overnight plane flights, or after working out. The Eye Renewal Treatment is nice and light. It didn't cause my eye makeup to flake or smear as some hydrating eye creams do. The Hot Flash Cooling Mist gives you a pleasant sensation, but I don't have day-time hot flashes anymore, so I passed it along to a friend, and she really likes it a lot!"
"There were two other things that also stood out for me about Pause's products. First, they had little to no scent. I am sensitive to scented products and will make purchase decisions solely on this criteria. Second, a little goes a long way. You don't need to use very much, so the products will last a long time. The containers are well-designed to not dispense too much. I will definitely buy the Pause products to keep my skin soft and smooth. The results in such a short time are amazing. If they had a day-time moisturizer with SPF. That would be perfect!"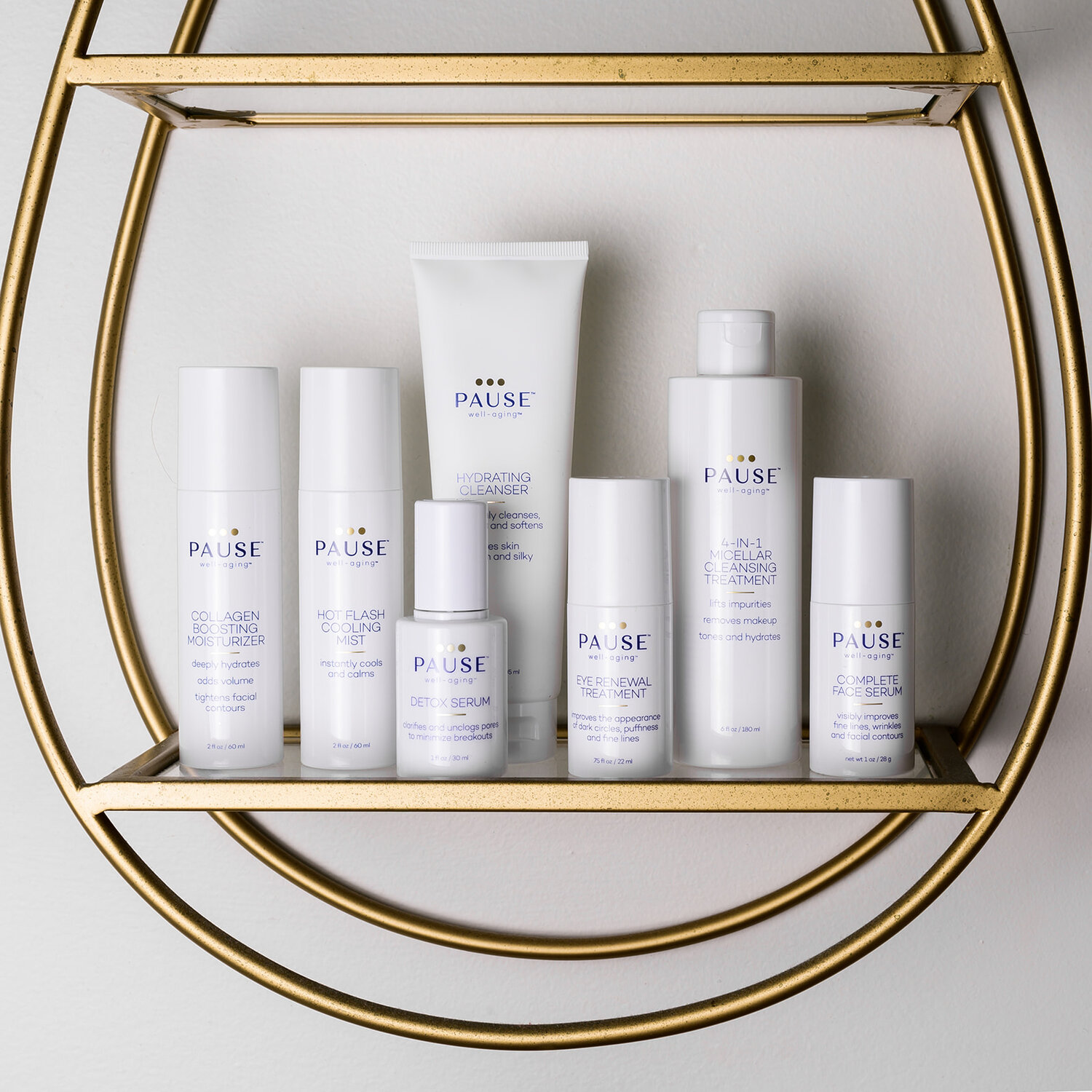 The Bottom Line on Pause Well-Aging
Our tester had a lot of positive feedback about the products and plans to keep using her favorites. We like that Pause Well-Aging is focused on the skincare needs of women 45+ and is truly an innovator in developing products to address our unique skincare needs. We also applaud the company's commitment to changing the narrative on menopause and aging. You don't think about the word "anti-aging" until someone like Rochelle points out that we don't need to focus on turning back the clock. Instead, let's simply age well. It's thrilling that women in our age group are starting companies and delivering products and experiences that reflect our needs and who we truly are as women.
Try Pause Well-Aging products for yourself and see what you think. The company's products are sold through its website. The reviews are very positive overall, with every product earning 4.5 to 5 stars. If you are unhappy with a product, they will issue a full refund within 30 days of purchase.
For more science and expert-backed guidance on your menopause journey, download Midday from the App Store or visit us at Midday.Health.
We curate products to keep you abreast of new technologies, emerging science, and things we think are interesting or cool. Midday is a participant in the Amazon Affiliate Program, a program designed to provide a means for sites to earn fees by linking to Amazon.com. If you purchase a product from Amazon or another affiliate program we participate in, we earn a small commission from qualifying purchases that help us provide information and services to our users. We have not always tested these products and can't validate their claims. We update links when possible, but note that deals can expire and all prices are subject to change. The decision is yours, and whether or not you decide to buy something is completely up to you.
Sign up for more unique women's health content
By submitting this form, you agree to the Lisa Health Privacy Policy and Terms of Use