Sexual Wellness
Top Natural and Organic Vaginal Lubricants and Moisturizers
This post contains affiliate links
Hey ladies, if you are experiencing vaginal dryness and pain during sex you are not alone. Vaginal dryness is a common symptom of menopause, which can result in burning, itching, or lack of lubrication during sex causing discomfort or pain. Nearly twenty percent of women aged 42-53 and thirty-four percent of postmenopausal women aged 57-69 reported vaginal dryness in a recent study.
The chances are that you and your partner are not too happy about the changes down under. What can you do? Lubricants and moisturizers make an excellent first choice in your bid to regain comfort, pleasure, and enjoyment during sex. We like natural, organic products, but there are many types on the market at all price points and can be purchased at your local grocery store, pharmacy, and Amazon. If the over-the-counter products are not working for you, additional options are available by prescription. Your doctor can discuss the choices and help you make an informed decision.
What is the difference between lubricants and moisturizers to treat vaginal dryness?
Lubricants may be used in the vagina and on the penis or sex toys during intercourse to help with penetration and to make sex more comfortable. Lubricants come in water- or silicone-based varieties or a hybrid of the two, and in various consistencies from thick to thin. Avoid oil-based products, including petroleum jelly. They're hard for the vagina to flush out, disrupt pH balance, and can deteriorate condoms. Yes, if you are a condom user, you need to make sure your lubricant is compatible. Lubricants usually last for a few hours. The choice of lubricant is a highly personal preference and may depend on the activity you have in mind. You may need to try a few different kinds before you find one you like.
Moisturizers keep vaginal tissue moist. Like the products you put on your face, they should be used every two to three days. Look for products that are natural and without fragrance and harmful chemicals.
Depending on your degree of vaginal dryness, you made need both a lubricant and moisturizer to keep your vaginal tissue moist and increase your comfort during sex.
We've rounded up some of the top natural and organic vaginal lubricants and moisturizers. If you have never used any aids in the bedroom, you may feel awkward initially. Keep in mind that the first product you try may not be to your or your partner's liking. The best path forward is to approach this new territory in the bedroom with an open mind and a sense of humor. Don't be discouraged. If, at first, you don't succeed, try try again until you get the hang of it, and using these products becomes second nature for you and your partner. You can also read our handy guide to lube basics.
Lubricants
Aloe Cadabra Natural Aloe Lubricant is a 2-in-1 product that works as a lubricant and moisturizer. The FDA-approved product contains 95% organic aloe vera and doesn't contain fragrance, parabens, and a host of chemicals. The contents are edible, food-grade ingredients, and sex toy compatible. While Aloe Cadabra has a 4.5 (out of 5) rating for sensitive skin on Amazon, test a small amount on your skin to ensure it's non-irritating. Aloe Cadabra has a 91 rating by Skin Safe.
Coconu Organic Personal Lubricant is also a 2-in-1 product. It's USDA-certified organic, 100% edible, and does not contain alcohol, petroleum, parabens, gluten, phylates, fragrances, and dyes. Nine of the ten ingredients are natural, including shea butter, sweet almond oil, and coconut oil.
Good Almost Naked Personal Lubricant is 95% organic and made primarily from aloe vera. It's free of proplylene glycol, parabens, synthetic fragrance, or other petrochemicals, and is latex and sex toy compatible. The product has good reviews on Amazon, but a few reviewers noted that it dries quickly, requiring a spritz of water to reactivate for reapplication. Good Almost Naked earned a 91 rating by Skin Safe.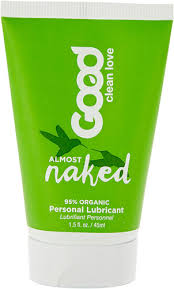 H2OH! Water-Based Personal Lubricant puts a twist on lubricant application with airless pump technology that the company claims make it easy to dispense and more hygienic. H2OH! is all-natural and water-based, free of parabens, glycerin, petrochemicals, and fragrance, and is latex compatible.
Sliquid Organics Natural Gel is a vegan glycerine and paraben-free lubricant that is blended with certified organic botanical extracts. The company claims its product will not cause UTIs or yeast infections. It has a 4.6 (out of 5) rating on Amazon for sensitive skin and is rated Top Free by Skin Safe.
Uberlube Luxury Lubricant is fragrance- and flavor-free, and free of parabens, petrochemicals, and preservatives. It reduces friction, not sensation, and the company claims it will not leave you sticky or wet, but rather nicely moisturized. Uberlube is rated Top Fee by Skin Safe.
Moisturizers
VMagic Organic Vulva Care & Intimate Skin Cream is a certified organic all-natural balm, containing zero hormones, synthetic dyes, fragrances, chemicals, preservatives, parabens, sulfates, soy, fillers, binders, and petroleum. The company claims that VMagic acts as an anti-inflammatory to reduce itching, burning, redness, and ingrown hairs, an active probiotic to suppress the growth of harmful bacteria, and is pH supportive to prevent odor-causing bacteria. It has a whopping 500+ 5-star ratings on Amazon, 583 5-star ratings on the company's website, and a 91 rating by Skin Safe.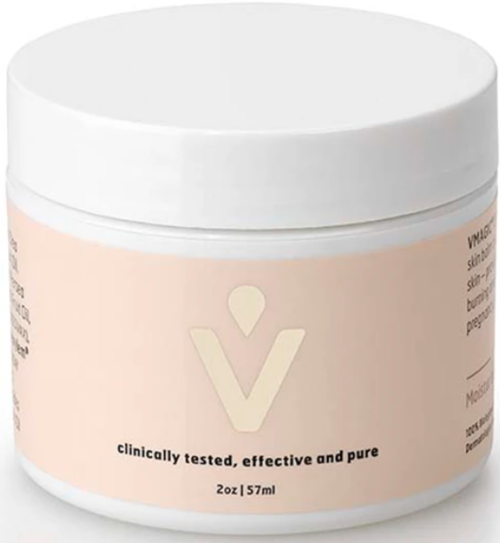 Emerita Personal Feminine Moisturizer contains Vitamin E, Aloe Vera Gel, Chamomile, and Calendula and is water-based, fragrance-free. The ingredients are tested for purity, major allergens, pesticides, bacteria, and heavy metals, along with other things.
PrevaLeaf Oasis is paraben-free, hormone-free, fragrance-free, and pH balanced for the vaginal environment. It is formulated with natural ingredients, water-based, rapidly absorbing, non-messy with probiotic technology.
What products do you love for vaginal dryness? Drop us a line at hello@midday.health. We'd love to hear from you!
For more information and support around your menopause journey, including sexual wellness and intimacy, download Midday from the App Store or visit us at Midday.Health.
We curate products to keep you abreast of new technologies, emerging science, and things we think are interesting or cool. Midday is a participant in the Amazon Affiliate Program, a program designed to provide a means for sites to earn fees by linking to Amazon.com. If you purchase a product from Amazon or another affiliate program we participate in, we earn a small commission from qualifying purchases that help us provide information and services to our users. We have not tested these products and can't validate their claims. We update links when possible, but note that deals can expire and all prices are subject to change. The decision is yours, and whether or not you decide to buy something is completely up to you.
Sign up for more unique women's health content
By submitting this form, you agree to the Lisa Health Privacy Policy and Terms of Use